Graham and Anita Bentley take pleasure in hosting you in their self-catering, ecological holiday cottage at Moulin d'Angles, close to the Lévézou lakes in the department of Averyon. The cottage, originally a stone barn, has been transformed with taste into a spacious and comfortable holiday accommodation ideal for a family (max. 5 persons). The premises are open for renting throughout the year.
The region offers many attractions: Rodez with its charming old city centre and the recently opened Musée Soulages, Conques on the Pilgrim Way of St James of Compostella, the Millau viaduct designed by Sir Norman Foster, Micropolis – the world of insects, as well as the ancient city of Albi, with its magnificent cathedral, and the beautiful village of Cordes-sur-Ciel.
Precautions against COVID-19: We are taking special care in respecting the government directives to ensure that our holiday cottage is safe upon your arrival. We will be in contact with you prior to your stay to inform you of the precautions we are taking and to ask if you have any particular requirements or questions. We thank you for your trust and wish you a pleasant holiday.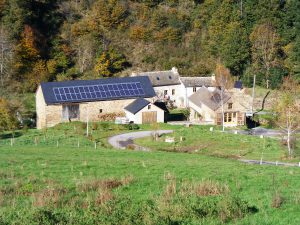 We acknowledge a subsidy from the Conseil Général de l'Aveyron.